Vanta's Event Log shows a history of changes made within Vanta including administrative activities, data modification, and user logins. This will give admins within your Vanta account a detailed understanding of who did what and when actions occurred, giving you more visibility into activity within Vanta and assisting with:
Debugging and troubleshooting any issues caused by changes

Detecting compliance and security violations to reconstruct any breaches

Providing any legal compliance evidence

Accessing the Event Log
From the left-hand panel, select your account name at the bottom right-hand corner and click Event Log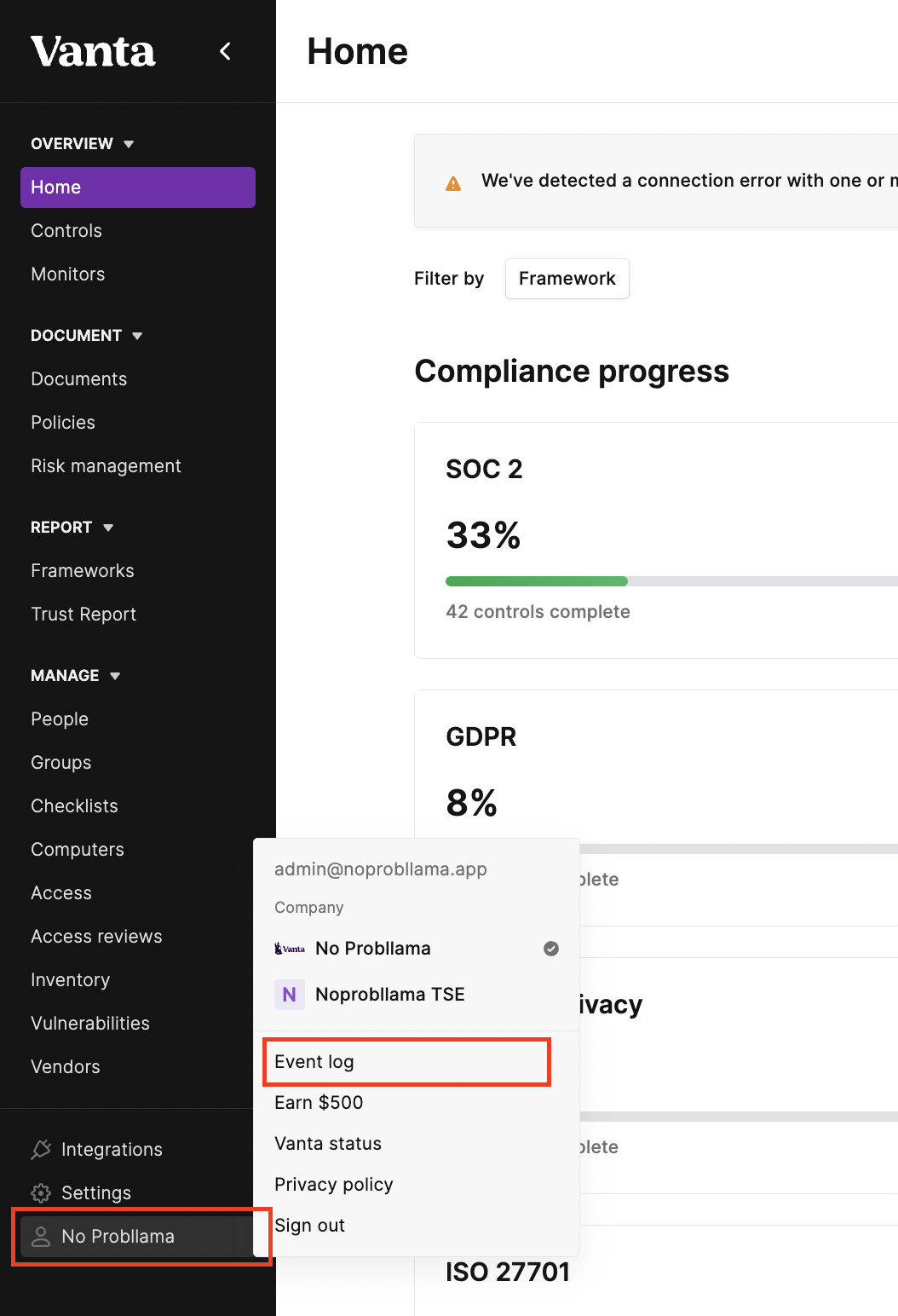 The entire event log will appear but can be filtered by:

User: filter by a specific user's actions
Action: filter by a particular activity that was taken within Vanta
Target: filter by the specific area an action would affect
Date Range: filter by a specific period of time

Event Logs are retained for 1 year from the event time stamp. This feature is not retroactive from the date the feature went live, October 28.
What events are listed in the event log?
People



Marking off-boarding complete

Assign users to a group

Creating a new user

Editing user details

Linking a user to the person in your HRIS

Unlinking a user to a person in your HRIS

Linking users to background checks

Marking users as not people

Marking users as people
Policies
Creating a new custom policy

Approving a policy

Renewing a policy

Adding a synced policy document

Uploading a new policy document

Updating a draft policy document

Deleting a draft policy document

Deleting an unapproved policy document

Requesting a user to approve a policy document

Canceling an approval request
Vulnerabilities
Acknowledging an SLA violation

Reopening a vulnerability

Ignoring a vulnerability
Integrations
Connecting integrations for the first time

Updating integrations

Deleting integrations
Tests
Assigning an owner to a test

Deactivating monitoring for a test

Reactivating monitoring for a test
Documents
Assigning an owner to evidence

Setting renewal cadence for evidence

Uploading a new document to evidence

Deleting a document from evidence
Login
Updated