With Vanta, access reviews are fast, automated, and simplified. Vanta automatically pulls system access through pre-established integrations. Vanta users can also upload access files directly into Vanta to consolidate account access data across dozens of systems.
Establishing Access Review Settings
From the left-hand navigation panel, select Access
Select Acces Reviews from the Access menu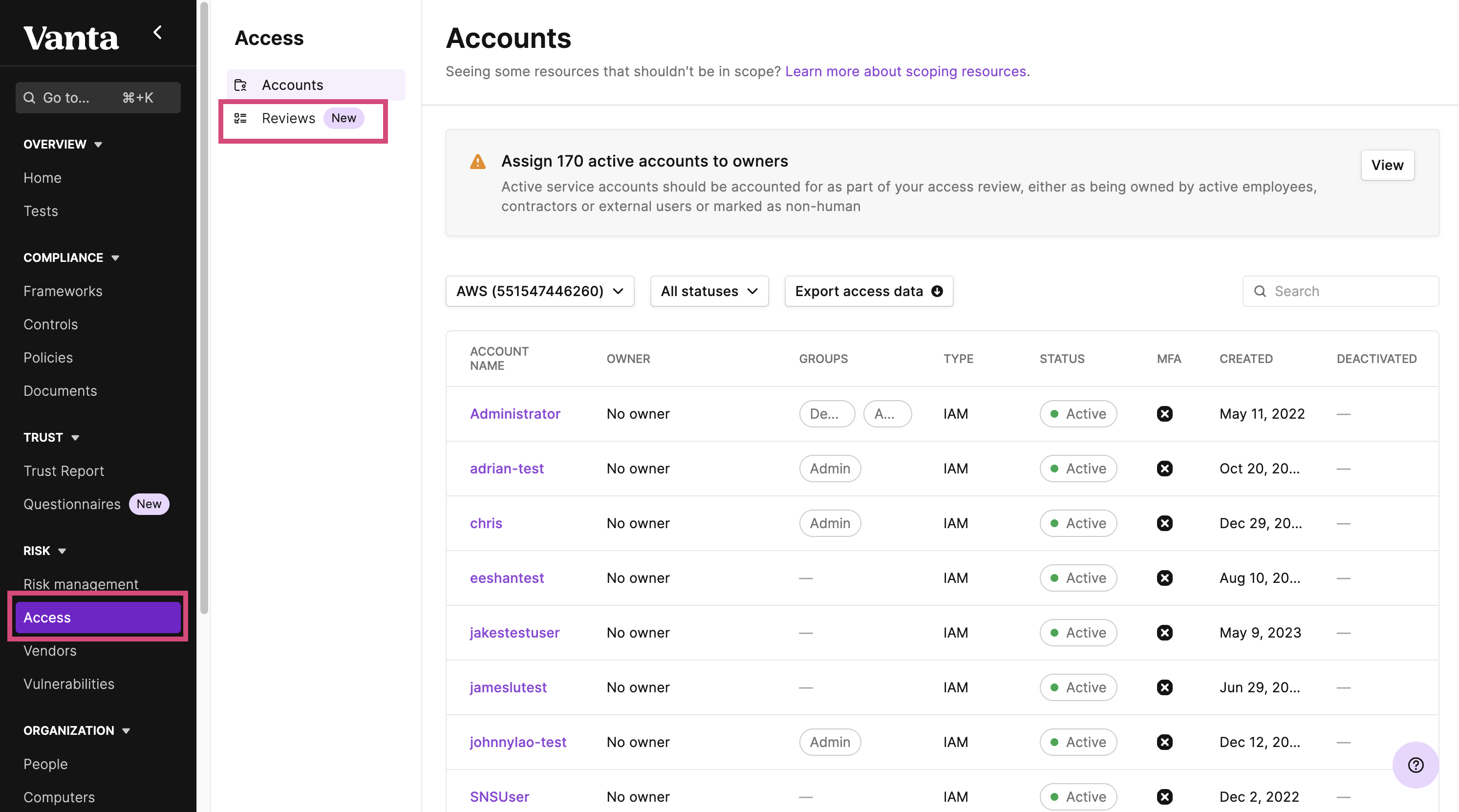 Establish the following settings:

Admin Point of Contact: Who will be primarily responsible for reviews?
Recurrence: How often should your company be completing access reviews?
Due Date: Once a review has been started, how many days are you allowing for completion?
Reminders: When will notifications be sent to remind users before reviews start or are due?
External Notifications: This takes you to the notifications page to configure who should receive notifications for access reviews.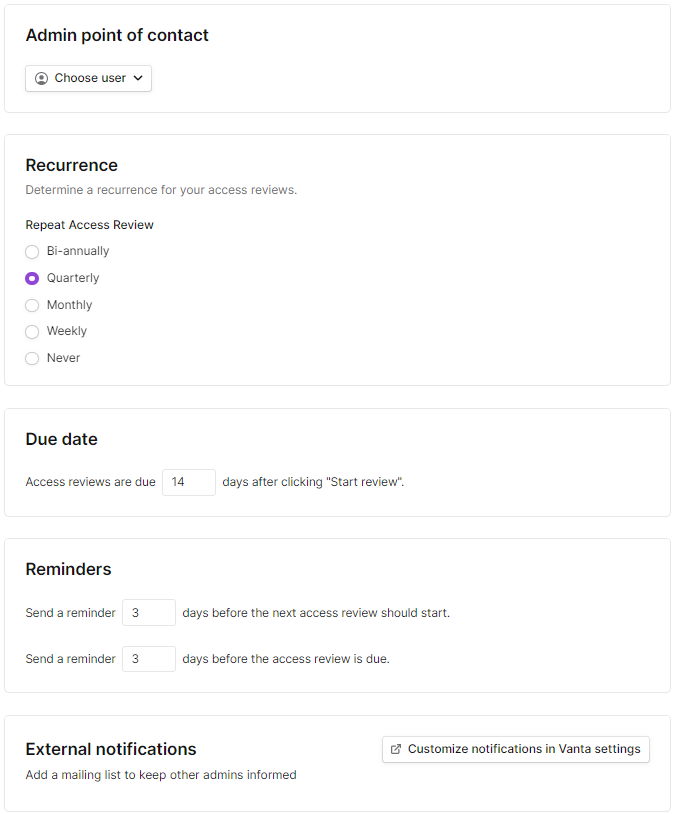 Starting an Access Review
From the Access Review Page, select Create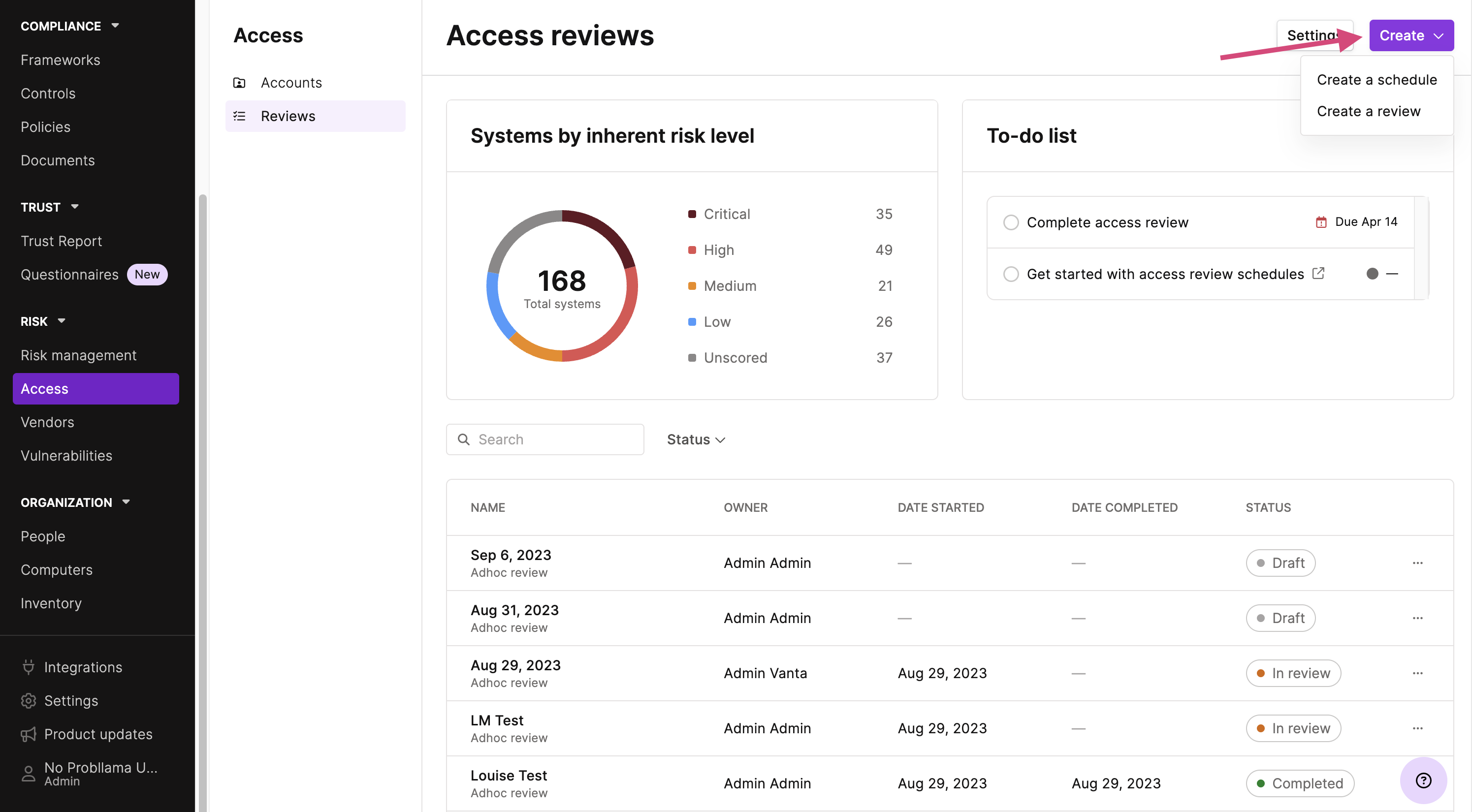 Give the review a clear title, and select the vendors that will be in-scope for this review
Select Create review

The review page will list your vendors and information related to the access file
If the access file is listed as Synced, the integration between the platform and Vanta has brought in the necessary information
If you see, Connect, this means the integration must be connected to obtain the needed information
If you see Upload File, you can follow the steps to upload a file manually
Once access files are available for all in-scope vendors, select Start Review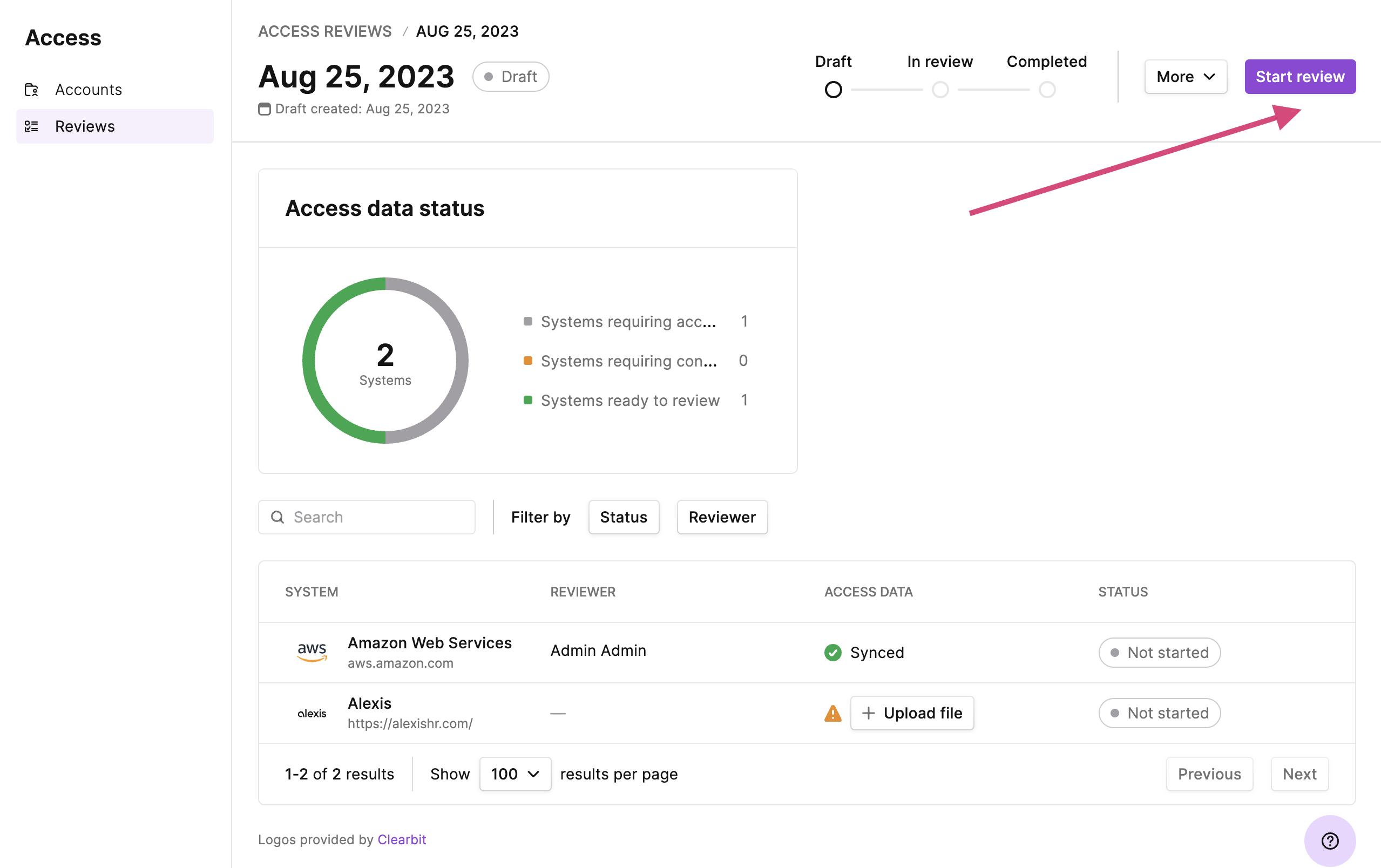 When you start a review:
All your assigned reviewers will be notified

Once started, you will not be able to

Add or remove vendors

Re-upload access files
Performing the Review
Click on the vendor from the specified review page
A list of accounts will appear
You will need to choose

Check: Maintain access: The user keeps access
X Remove access: Clicking the X will not cause that user to lose access to the associated system. Rather, it will kick off a remediation flow. We cannot currently write any changes to your systems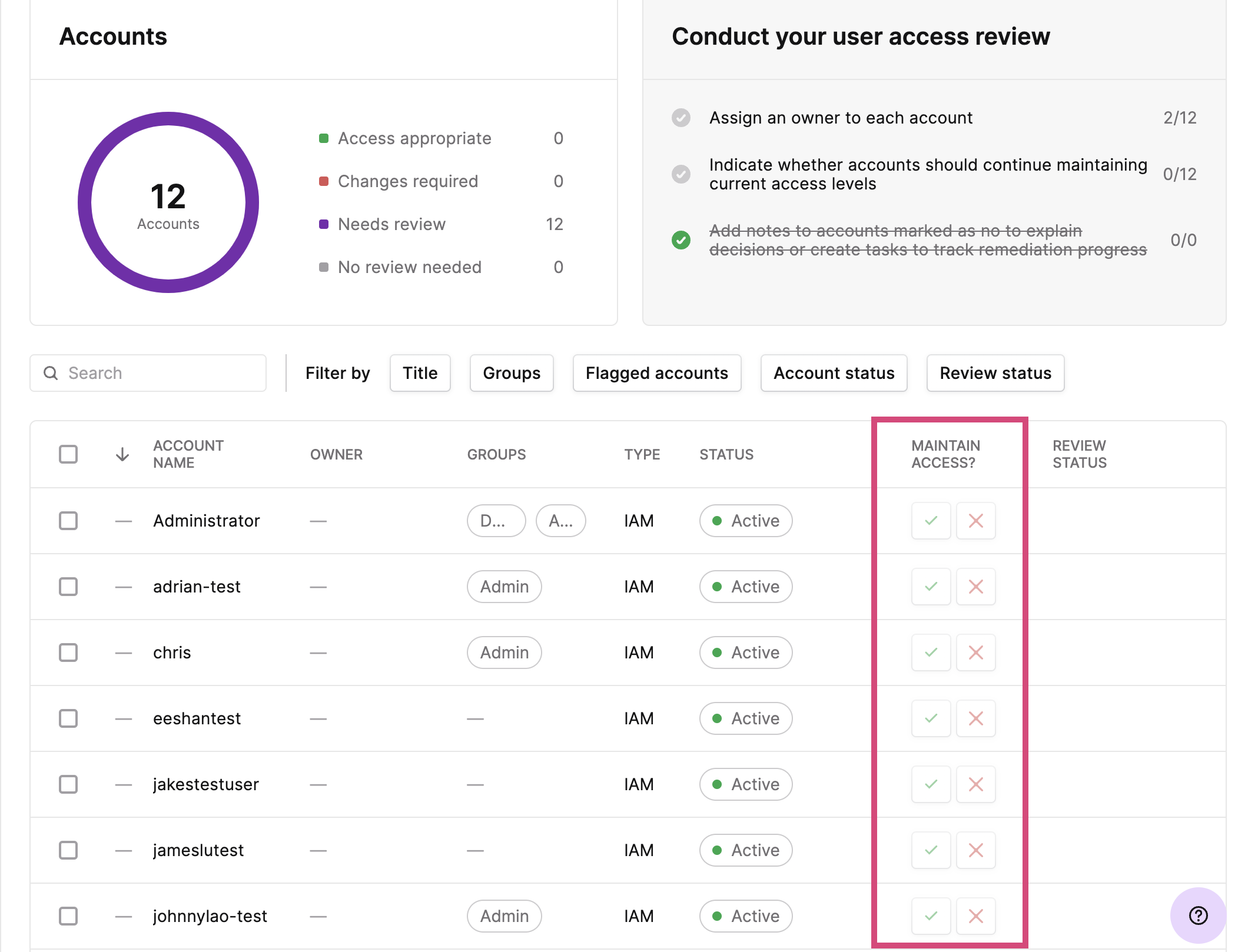 Clicking into the user will allow you to view detailed information, as well as add notes
All accounts must be assigned an owner before submission. If an owner needs to be assigned or edited, select the > next to the owner's name and make the necessary changes.
When all access accounts have been reviewed, select Submit.
Creating a Schedule
Select Create
Select Create a schedule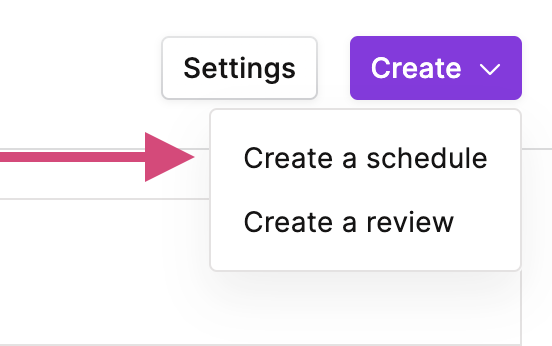 Select Create a custom schedule, or select one of the pre-provisioned schedules from the Select a Starting point page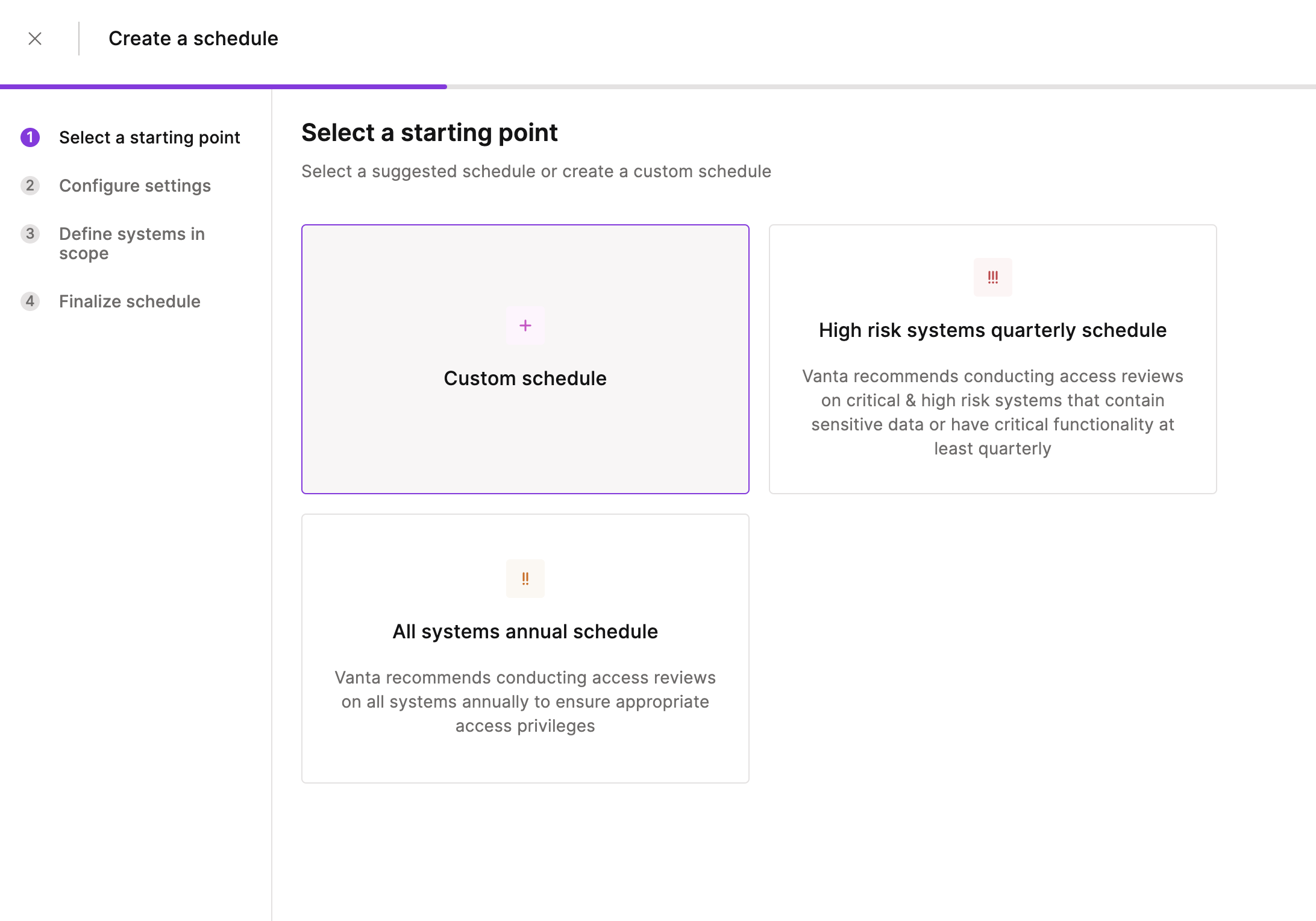 Select Next
Configure the settings

Identify the schedule owner, and the schedule name. Select the start date, how long the access review will take, and how often you want this review to be done

Define the scope by selecting the systems to include
Finalize the schedule and select Save Schedule
Access Review schedules can be found by clicking Settings in the top right-hand corner

Deleting a Review
Select the draft or review to be removed
Select More, and then Delete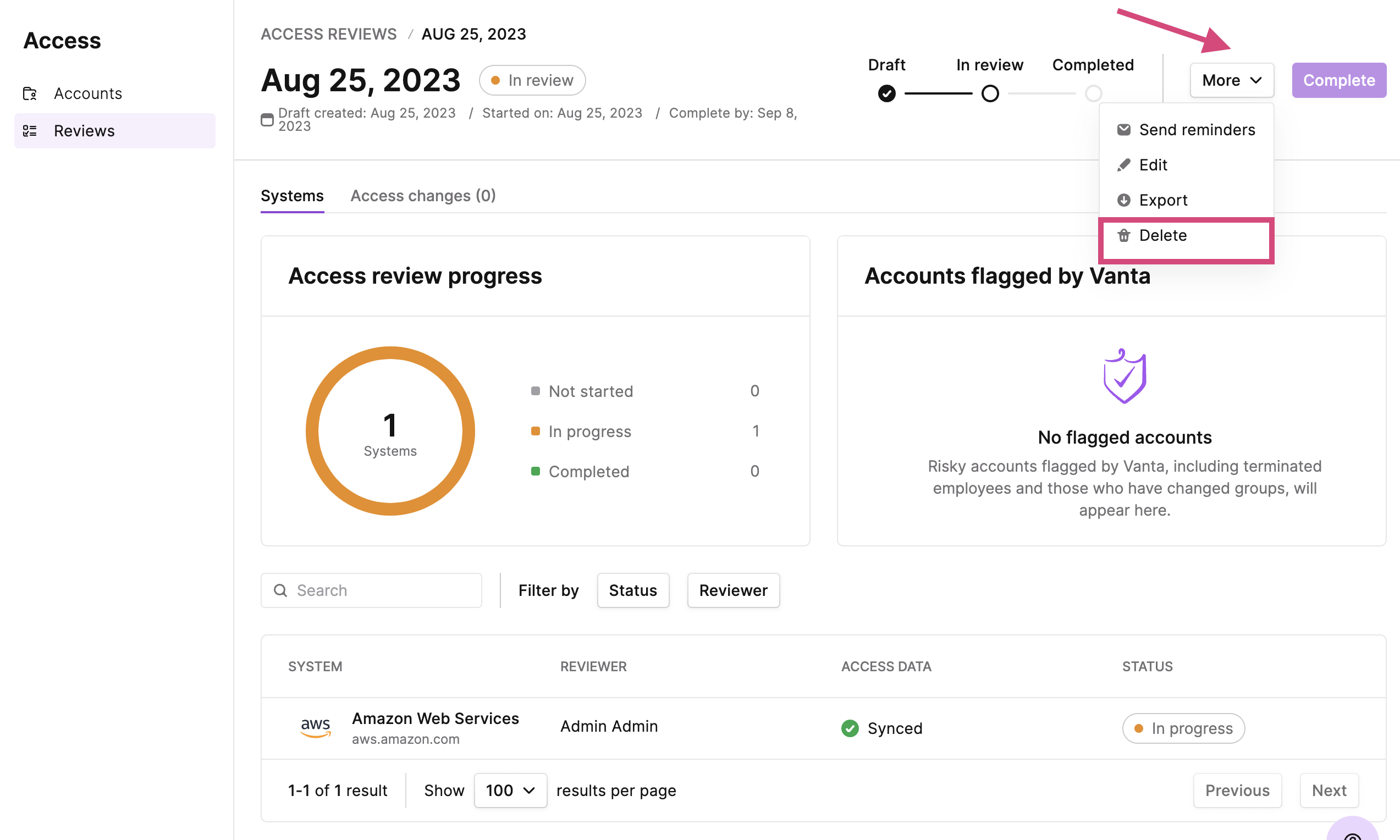 Exporting a Review
Select the draft to be reviewed
Select More, and then Export

Filter by Status
From the Access Reviews Page, select Filter by Status
Choose the status to filter by, and results will populate the page