Vanta supports monitoring the completion status of various pieces of training for various standards. These include General Security Training, CCPA Security Training, GDPR Security Training, HIPAA Security Training, and PCI DSS Security Training.
You can view these once you enable the Security awareness training setting in your checklist setting for a particular group:



If an administrator wishes to monitor a different type of training, such as Sexual Harassment training, this is not possible in the product. A workaround would be to create a custom onboarding task and have the users upload a screenshot of the completed training.


Prerequisites
You must be an administrator in Vanta
Procedure
Navigate to the Checklist Page and select a group; you cannot set this globally; it must be enabled at the group level.




Once inside a group, scroll down to Custom Tasks. If it is not enabled, hit the toggle (gray) to allow it to (should turn purple):





From here, you can click the drop-down arrow and then click +Add custom task to create the task for the users to complete:



You will need to provide a link to the training and some kind of instruction, such as uploading a screenshot of the completed training or uploading a certificate. This is up to the administrator's discretion, once finished, hit the purple create button: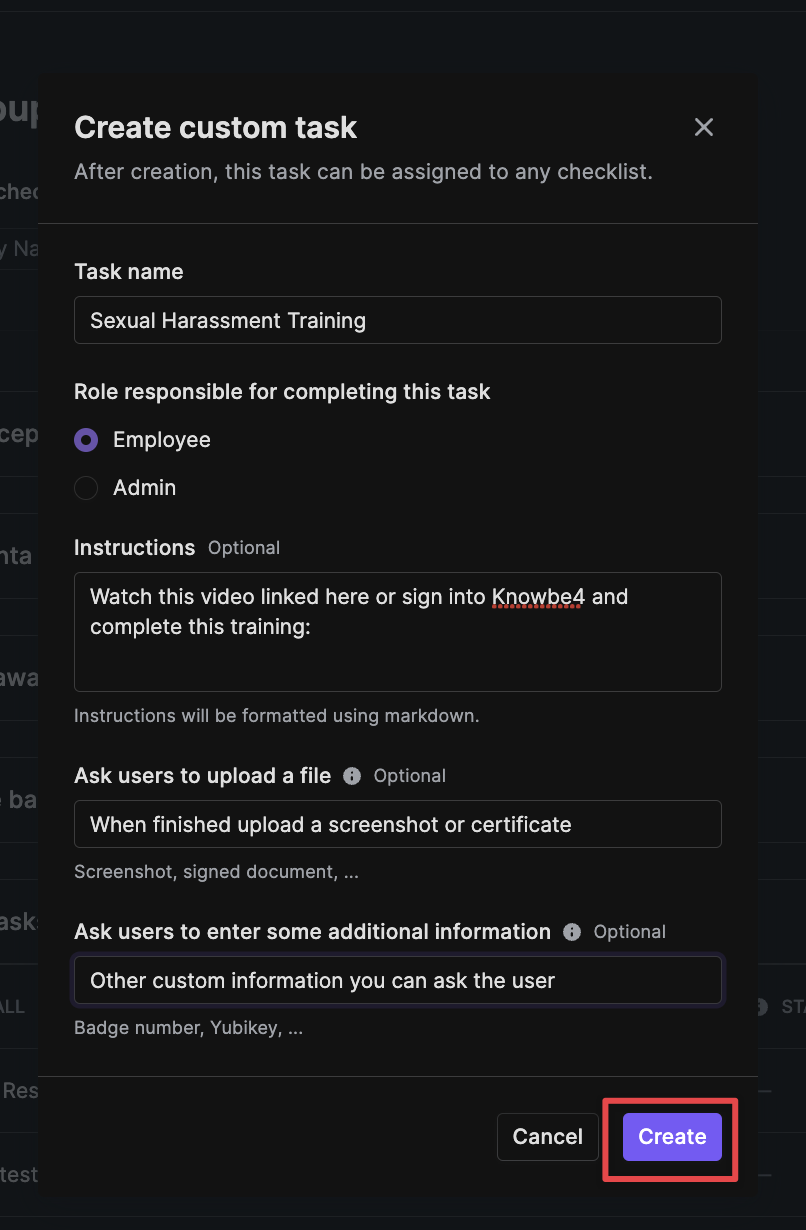 Once this is done, scroll down to find the task you created and click the checkbox next to the task name. You can then click Save checklist to have this task take effect immediately.



You will be returned to the checklist overview page once the changes occur.




If you want this task to start at a future date, click the 'No start date' calendar icon and specify the date. You can then click Save checklist for these changes to take effect:



You will be returned to the checklist overview page once the changes occur.




Once your checklist is live, you can verify this by going to the people page and looking at the onboarding tasks for one of the users in the group you added the custom task to:





This is how their onboarding page will appear:



Additional Resources
Updated