DocuSign connects to Vanta using OAuth2. When connecting Docusign to your Vanta instance, Vanta is able to make API calls as the app to verify user access.
Prerequisites
Familiarity on your DocuSign account type;
Procedure
In Vanta:

Select Available and search for Docusign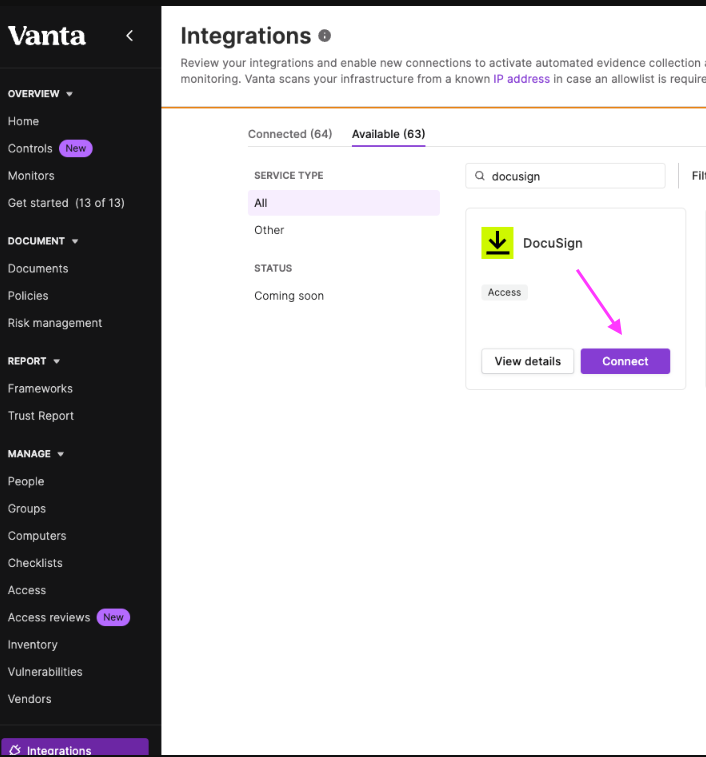 Choose how you would like to connect DocuSign:



Organization: Use this option if you collectively manage multiple business accounts using 'DocuSign Admin for Organization Management'.


This will connect via OAuth, redirecting you to the DocuSign login page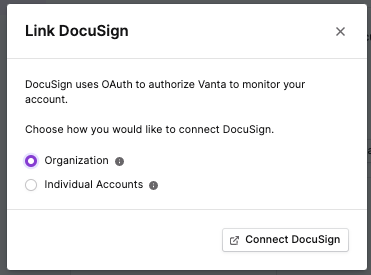 Individual Accounts

: Use this option if you manage a single DocuSign eSignature account.

This requires your DocuSign Account Base URL and DocuSign API Account ID. These can be obtained by navigating to your DocuSign eSignature pane, and clicking into the Settings

tab. Then, click on Integrations - Apps and Keys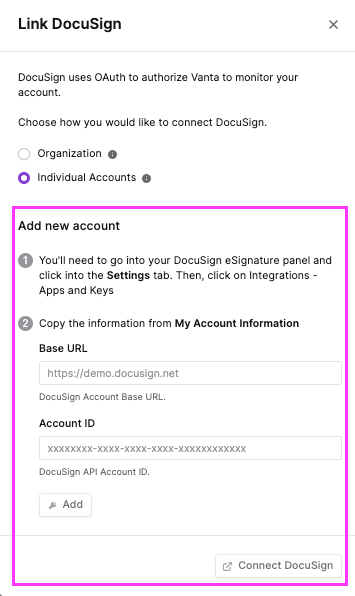 When redirected to the DocuSign login page, Enter your

DocuSign Account Email and password


Common Issues
Connection Error: "We couldn't find any users on your account, this is probably caused by an error in your credentials. Please unlink and relink your DocuSign integration."

This can occur if 'Organizations' is selected as the connection method and there are no organizations setup in your DocuSign account.
Please try reconnecting, by selecting the 'Individual Accounts' connection method. If connection errors persist, please reach out to support@vanta.com for further assistance.
Updated