Below we'll walkthrough the steps on connecting your Qualys account to Vanta.
Prerequisites
Go to the Qualys VDMR tool.

Go to the

USERS

tab in the menu at the top as it's shown in the video.

Click on the

New

button and the

User

option.

Fill the general information form with the following unless indicated otherwise:

First Name: Vanta

Last Name: Integration

Title: – (hyphen)

Phone: – (hyphen)

Address 1: – (hyphen)

Country: United States of America

E-Mail Address: Enter the dedicated email address for the service account.

State: California



Language: English

Date Format: ISO Format (yyyy-mm-dd)

Time Zone: (GMT -08:00) United States, California (Pacific Standard Time)



In the User Role section:

User Role: Reader

Allow Access to: Only check the API option checkbox

Business Unit: Select the business unit you want to be monitored.



In the Notifications section set everything to None, off or No notification, depending on the options available.



Save your new user.



Check the E-Mail address inbox for incoming emails from Qualys follow the instructions provided by them and return to this page once you've been provided with a password.
Procedure
Once you've created your Service Account in Qualys, Enter its credentials in the last section of
Step 1 in the connection flow: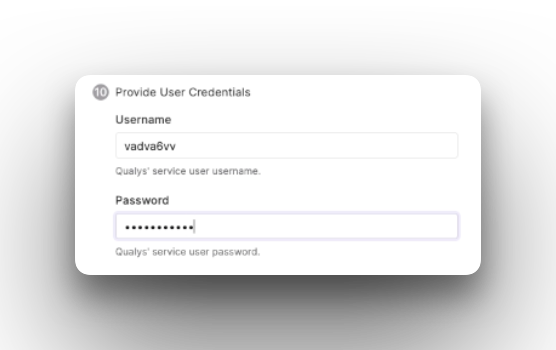 Click Next -> and you should now be able to Select your region. Use this Guide to determine your Platform Identifier.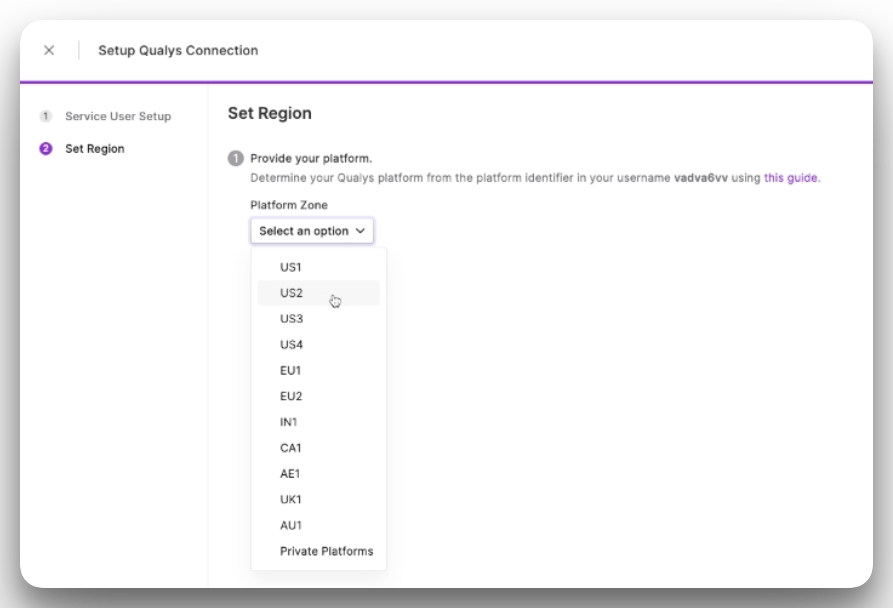 Once selected you should be good to go! You'll now see Qualys as a connected integration:


As well as see your accounts pulled in on the Access page:

Tests and controls for Qualys:
Tests:
Vanta automates 2 tests:
Qualys accounts associated with users
Qualys accounts deprovisioned when employees leave
Controls:
Vanta helps pass 14 controls:
Access control
Access established, reviewed and modified
Access reviews conducted
Access revoked upon termination
Access rights
CUI systems protected during HR changes such as termination or transfer
Comprehensive Access Management In Place
Identity and Credential Management
Identity management
Logical Access - Account De-Activation
System access restricted to authorized access only
Terminated user access removed
Termination procedures established
Users, processes and devices are authenticated prior to access being granted