The Computers page serves as an overview of the computers that are being monitored by your company with the help of the Vanta agent or a supported MDM.


Computers with the Vanta Agent Installed
Once the Vanta Agent has been installed on your employee's computers, a list will populate. Each row includes information about each of your employee's computers pertaining to your company's security controls with green checkmarks indicating that the above component has been confirmed on the employee's computer:

The information the Vanta Agent sends to the web application includes:
"Owner" — The name of the employee and their computer.
"OS Version" — The specific operating system that the computer is running, including the version and the serial number for the computer.
"PW Manager" — Indication that the employee has a password manager installed on the computer.
"HD Encrypted" — Indication that the computer's hard drive is encrypted.
"AV Installed" — Indicates if antivirus software has been installed (NOTE: Due to the fact that the Vanta Agent runs on Osquery - it serves as the minimum requirement for antivirus software and is marked with a grey "V").
"Screenlock enabled" — Indicates if the machine has screenlock enabled.

"Last Check" — A timestamp indicating the last time the computer communicated with Vanta.
To remove or reassign one of your employee's machines, click the "..." on the right side of the employee's row:

Troubleshooting
If a machine has the Vanta Agent installed but is not populated on this page, click on the "Troubleshooting" link at the bottom of the page:

The pop-up text box will provide steps for macOS, Windows and Linux machines: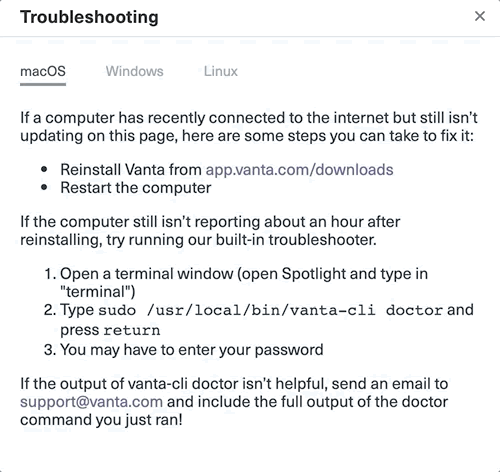 Computers without Vanta Agent Installed
Employees who do not have the Vanta Agent installed will be listed under the "Unmonitored" tab:

Automated Vanta Agent Install with MDM
If you do not want your employees to self-install the Vanta Agent, you have the option of running a script for automated install on your MDM provisioned computers. That script can be located on the "Use your MDM system to install the Vanta Agent" at the bottom of the page:

Security of the Vanta Agent
Go to the bottom of the page and click "learn more" to get more information on the security of the Vanta Agent:

A text box explaining the security of the Vanta Agent in will pop up: