Environment Details
On the Identity Provider Linked To Vanta test, you may see the following message:
"Unable to load user from identity provider. 
Loading this user would cause there to be multiple active users in Vanta with the same email address."
Cause
When an email is synced from an IdP like Google workspaces, Vanta will automatically links any exisiting HRIS info with a person based on a combination of email address and name matching.
If the email account is deactivated in the IDP for any reason, then reactivating it again, Vanta will detect this as 'new employment' and attempt to create a new user profile. This is done to show proof that during an employee's tenure at an organization, they successfully completed their onboarding and offboarding. If they are re-hired, a new user is created in Vanta to show that they have completed onboarding again.
If the previously connected HR Data is still active and connected to original IdP 'employment period', it's unable to create a new user profile for the updated employment period, and will result in this error.
Resolution
From the

People Page, click on the 'More' drop down, then select 'Manage HR Data'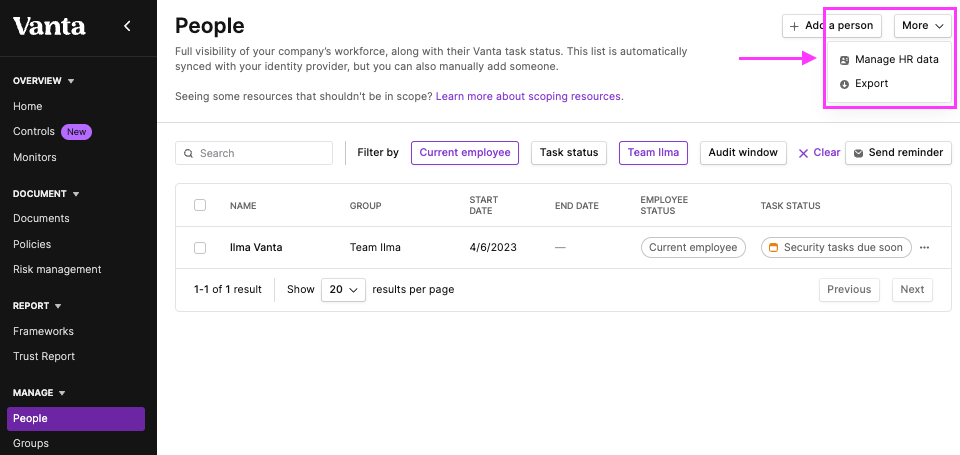 Select Linked and open the dropdown for the appropriate person
Select Clear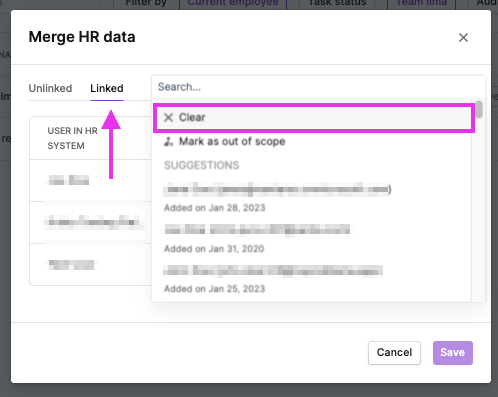 You should now have two users with the same email in Vanta

- a 'Former employee' user representing their first employment period and a 'Current employee' user representing their current employment. These dates are pulled from the IdP profile.

Additional Resources