Problem:
On the Identity Provider Linked To Vanta test, you may see the following message:
"Unable to load user from identity provider. Loading this user would cause there to be multiple active users in Vanta with the same email address."
Solution:
For background - Vanta stores users based on their "employments." This means that if a user was previously onboarded, offboarded and then reactivated in the IdP, Vanta will show two users. One user is from their previous employment dates, and the other user is from their current employment. This is done to show proof that during an employee's tenure at an organization, they successfully completed their onboarding and offboarding. If they are re-hired, a new user is created in Vanta to show that they have completed onboarding again.
The error above can occur when the user from the previous employment is still linked to the HR user coming from the HRIS. To resolve this, follow the steps below:
1. Navigate to the Manage HR Data window here
2. Navigate to the "Linked" tab, and find the impacted user. Unlink their HR user from their IdP User: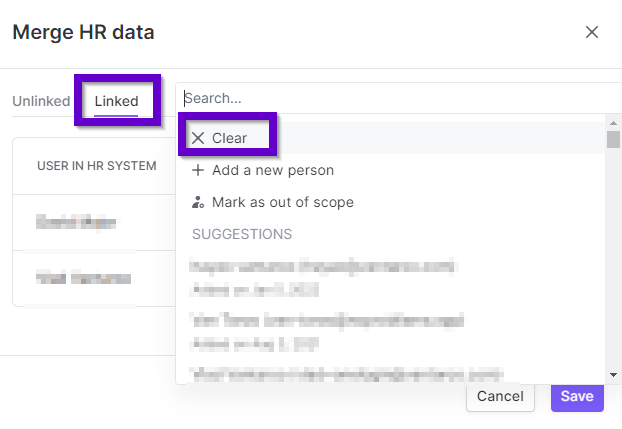 4. Navigate back to the Identity Provider Linked To Vanta test, and select "Refresh test" on the top right of the page
5. Navigate to the Manage HR Data window here and link the HR user to the IdP user with the appropriate start date.
You will now have two users with the same email in Vanta. One user will represent their first employment, and the other will represent their current employment.