The Computers page serves as an overview of the computers that are being monitored by your company with the help of the Vanta agent or a supported MDM (mobile device manager).


Computers with the Vanta Agent Installed
Once the Vanta Agent has been installed on your employee's computers, a list will populate. Each row includes information about each of your employee's computers. Each user will have a check mark or an X for each security measure column.
Accessing the Computers Page
Select Computers from the left-hand navigation panel
From here, you will find a list of assets being monitored and tracked within Vanta
Clicking a specific User name will show you additional information related to the person, such as their onboarding status, what access they have, offboarding status, and computer information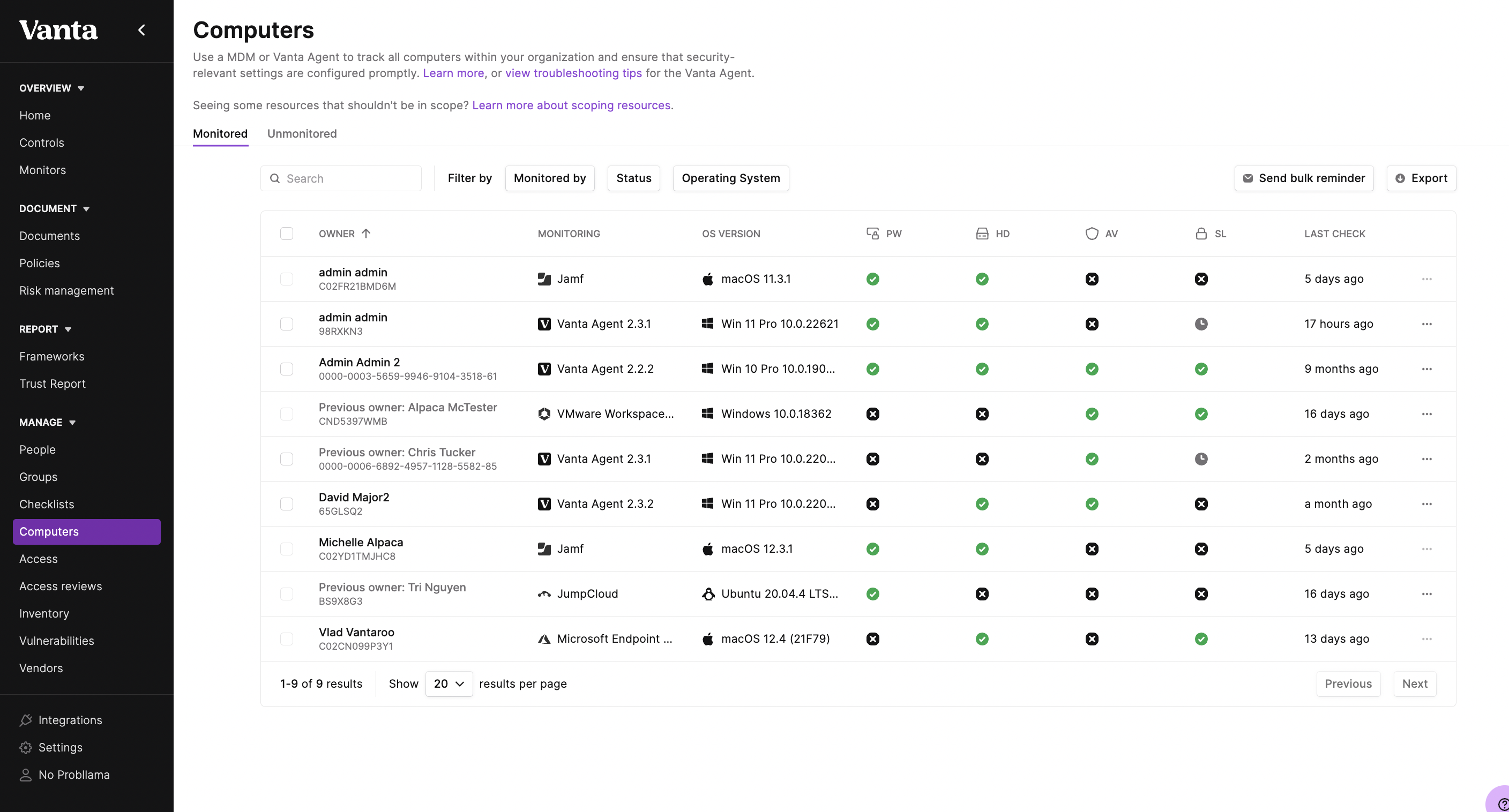 Column Information
A green check indicates that the asset's security protocol has been met. An X means the asset does not have that security protocol met.
Owner: The owner of the asset
Monitoring: What is monitoring this asset?
OS: What OS is the asset running on?
PW: Does this asset use a password manager?
HD: Is the hard drive encrypted?
AV: Is an anti-virus installed?
SL: Is screen lock enabled? (Does the device lock after inactivity)
Last Check: When was the last time this asset was scanned by the agent or MDM

Reassigning or Removing a Computer
Select a specific name from the list
From the Computers tab, scroll to the bottom and choose:

Reassign owner: Chose a new user to have ownership over the asset
Remove computer: Removing a computer is permanent. Once removed, to have the laptop reappear, the user will need to reinstall the Vanta Agent.
Exporting Computer List
To export the list of your assets, click Export from the top right-hand side of the page.
This will start a download for the .csv file of the computers list.
Troubleshooting
If a machine has the Vanta Agent installed but is not populated on this page, click on the Troubleshooting link at the bottom of the page:

The pop-up text box will provide steps for macOS, Windows, and Linux machines: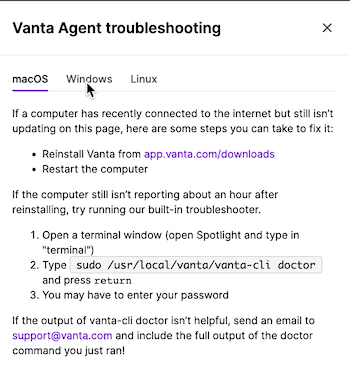 Unmonitored Computers
Employees who do not have the Vanta Agent installed will be listed under the "Unmonitored" tab:

Automated Vanta Agent Install with MDM
If you do not want your employees to self-install the Vanta Agent, you have the option of running a script for automated installation on your MDM-provisioned computers. That script can be located on the

Use your MDM system to install the Vanta Agent at the bottom of the page.

Security of the Vanta Agent
Go to the bottom of the page and click learn more to get more information on the security of the Vanta Agent: