Security awareness training helps employees stay informed about the Company's security practices. A good security training program refreshes regularly, giving your organization the most recent information and best practices. Vanta helps you manage a dynamic security program with yearly recurring training options.
Enabling Vanta Security Training
Navigate to the People page
Select Checklists from the left-hand navigation panel and click into a Checklist
Enable the security training you require of your employees by toggling the switch to on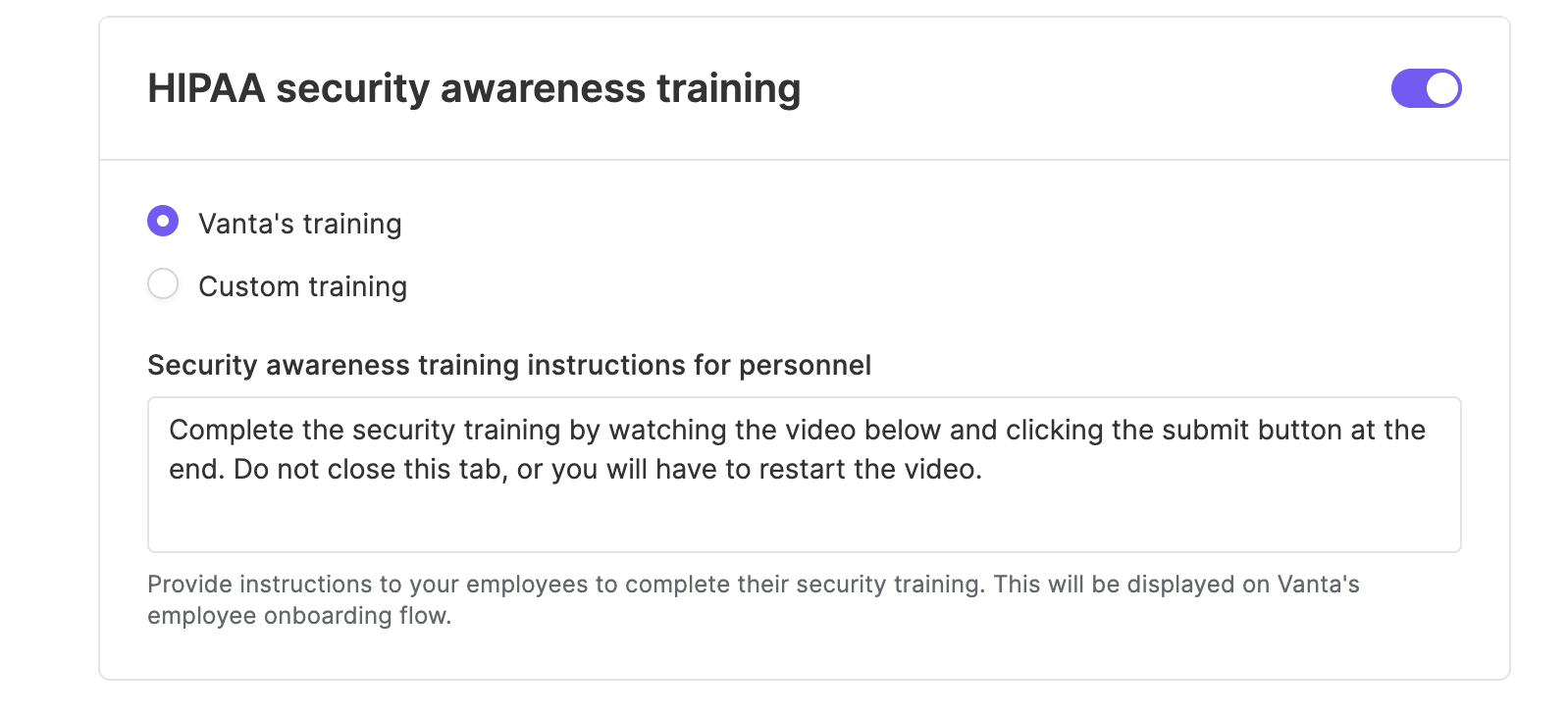 Vanta's training is a preestablished training program for your employees to use
Custom training allows you to link to a security training program outside of Vanta
Your employees will need to visit https://app.vanta.com/onboarding to complete their security tasks. Once you are ready, you can enable Vanta's automated reminders to notify them automatically.
As an Admin, you can see an employee's progress by opening the People page, selecting the person, and viewing their completed tasks and default requirements.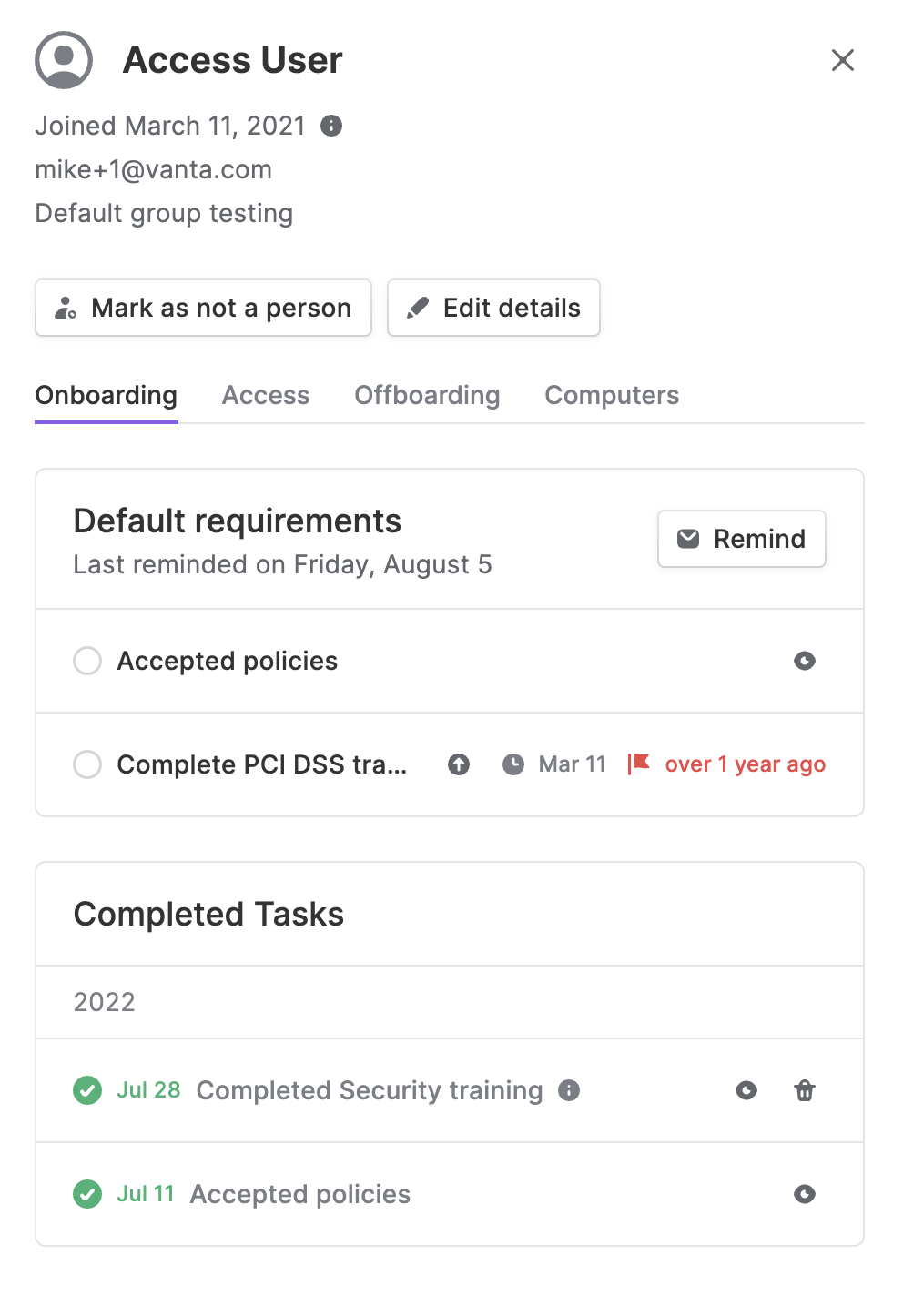 By default, this is an annually recurring task for employees. The training anniversary date is based on the employee's last security training.
Security Awareness training in the second year and any after that will be added to the employee task list.
Custom Security Training
When creating checklists, you can create a custom task
From here, you can provide the task name and the instructions. Include the link to the security training here.
From here, you can require your employees to upload proof of completion if needed, ie, screenshots or signed documents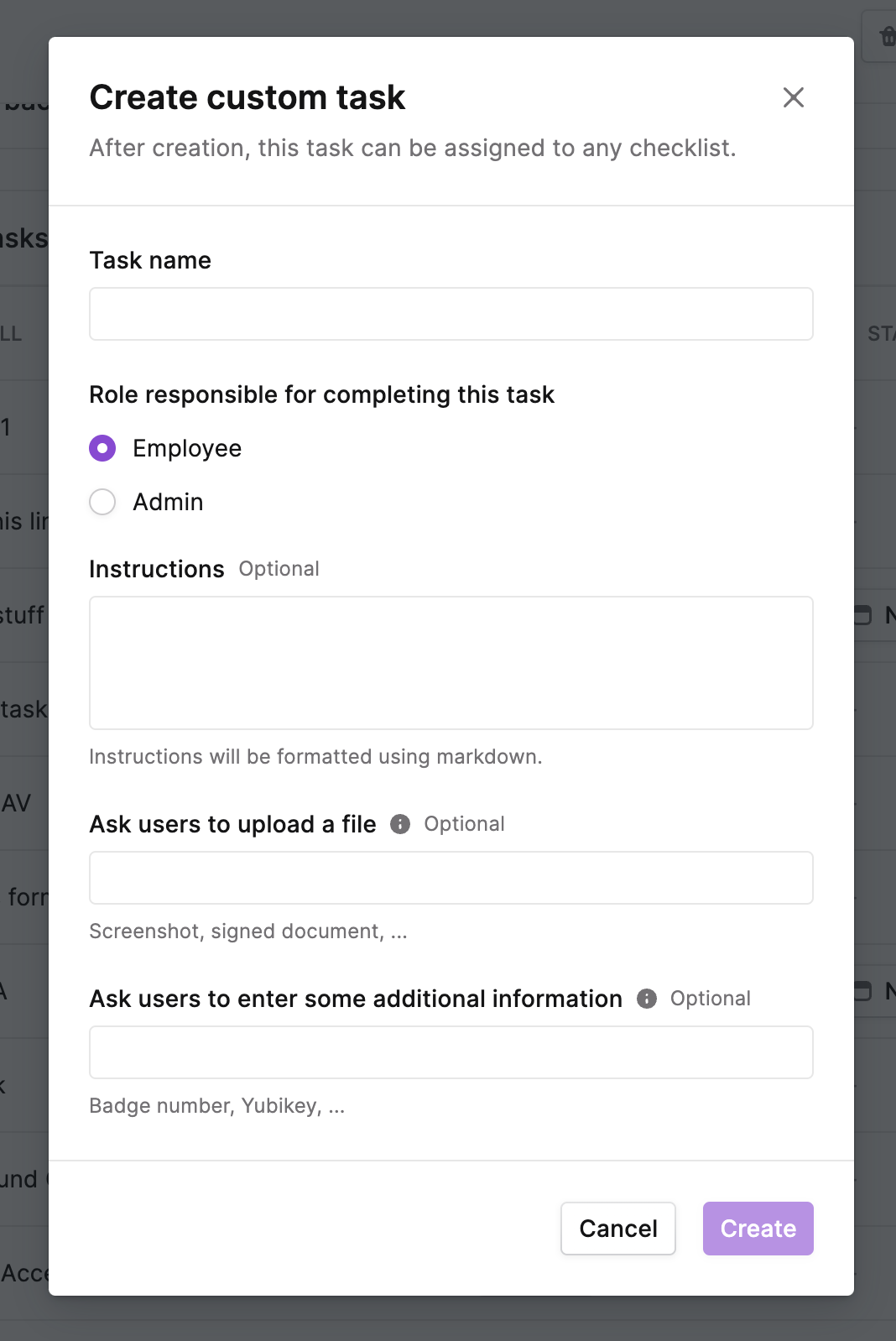 KnowBe4
Vanta's KnowBe4 integration syncs completed training from KnowBe4 to Vanta. Employees can complete training in KnowBe4, and their security checklist will automatically update into Vanta!
Admins can set up the KnowBe4 connection and select which training campaigns they want to track in Vanta for which standards

Onboarding settings will automatically update to reflect that KnowBe4 is the chosen method for SAT and track training
Connect KnowBe4 by providing an API token key (See KnowBe4 instructions for more details)

Make sure you select

Store Token before exiting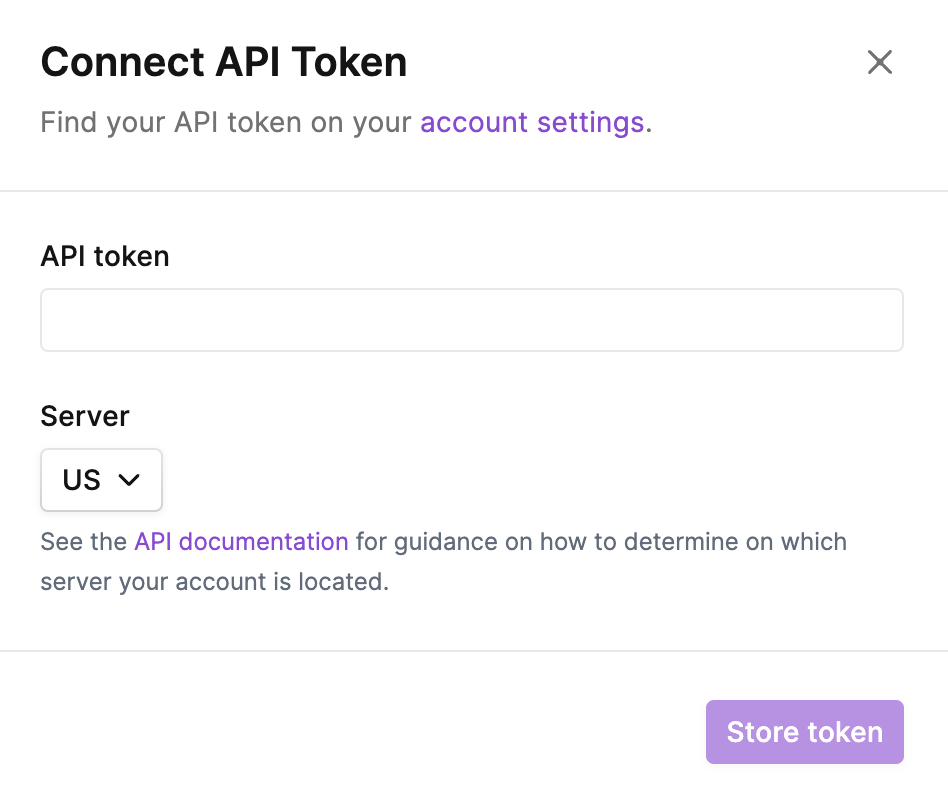 Select which campaigns you'd like to track

Campaigns are pulled from your KnowBe4 account, and y

ou can include both inactive and active campaigns.

Keep in mind that only annual recurring tasks are fully supported. As you can bring in monthly campaigns, this will reset the requirement every month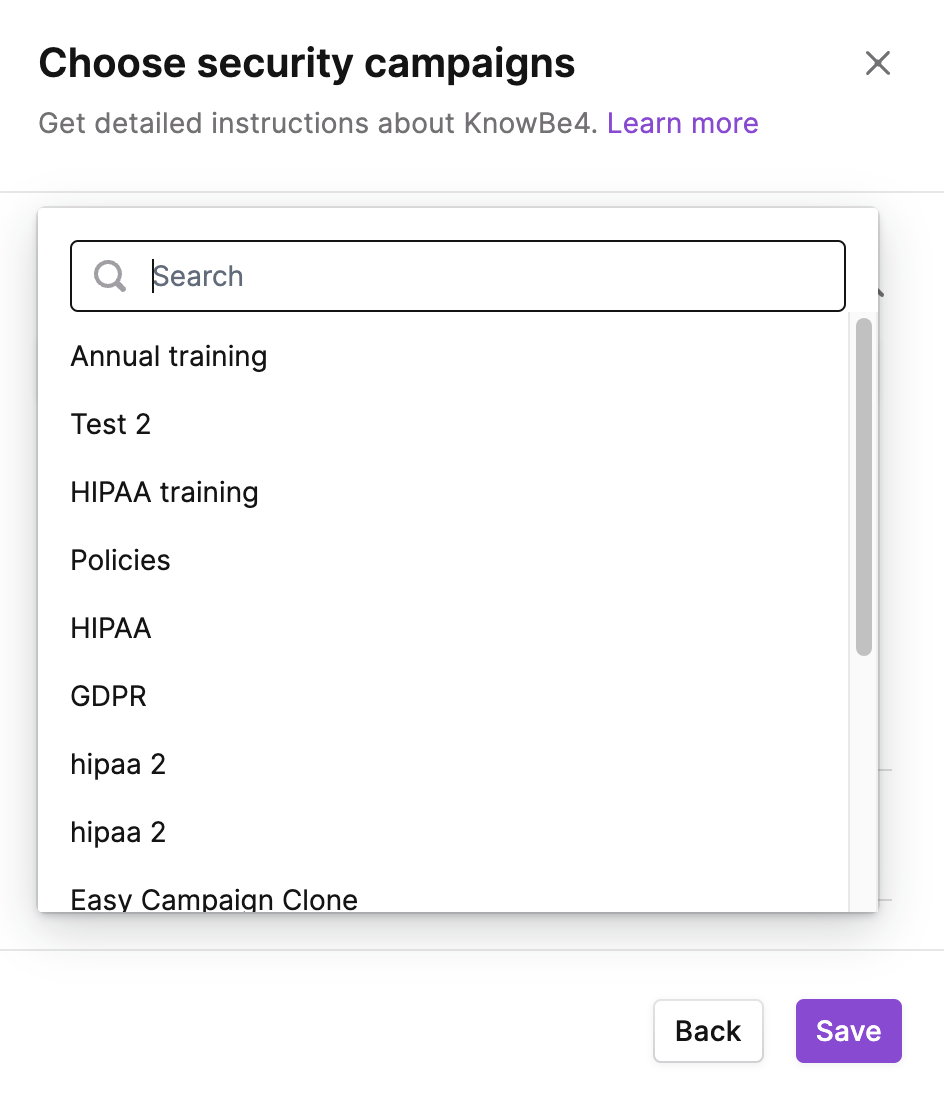 Associate each campaign with a Vanta SAT type to indicate which campaign fulfills each training requirement.

You can add as many available KnowBe4 campaigns as you like and

associate each campaign with multiple types of requirements & standards. Associate the campaign by selecting the checkbox: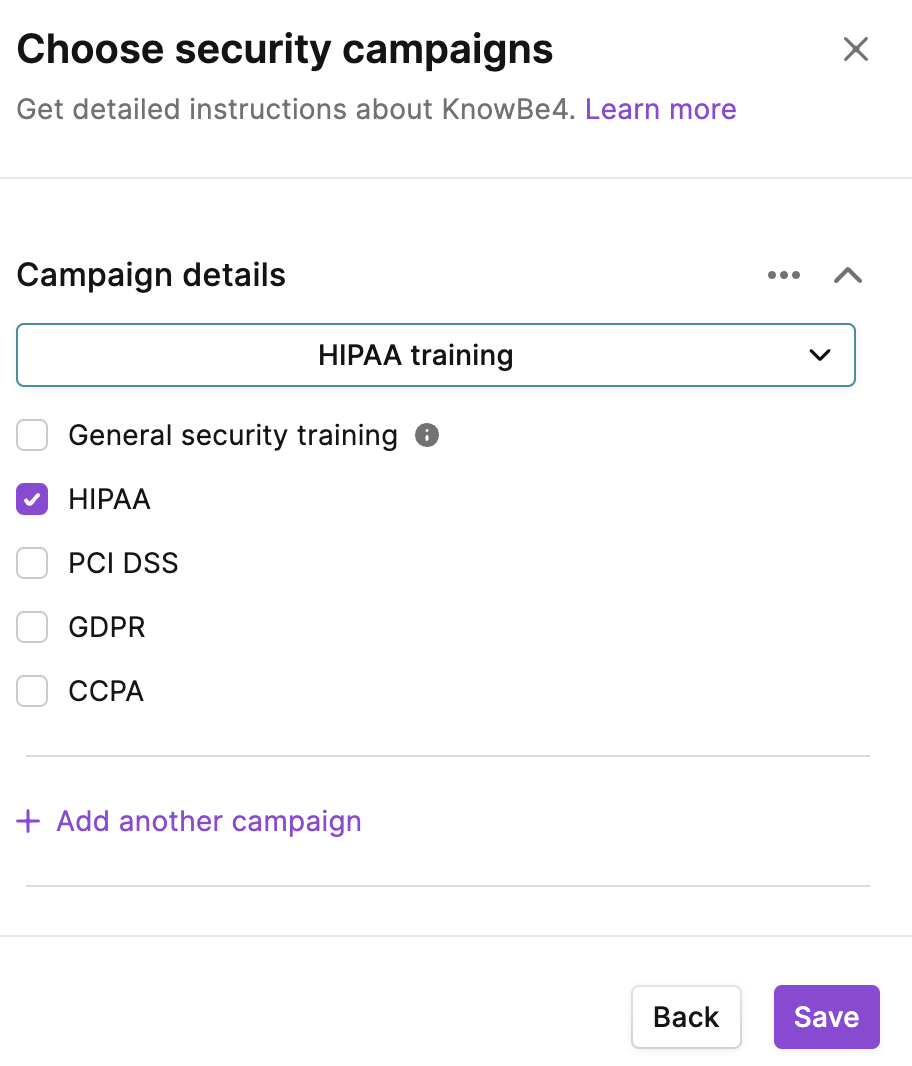 Click

Save

to complete the connection flow.

To make updates or modifications, admins can go to the

Connections

page, locate Knowbe4 and

Manage: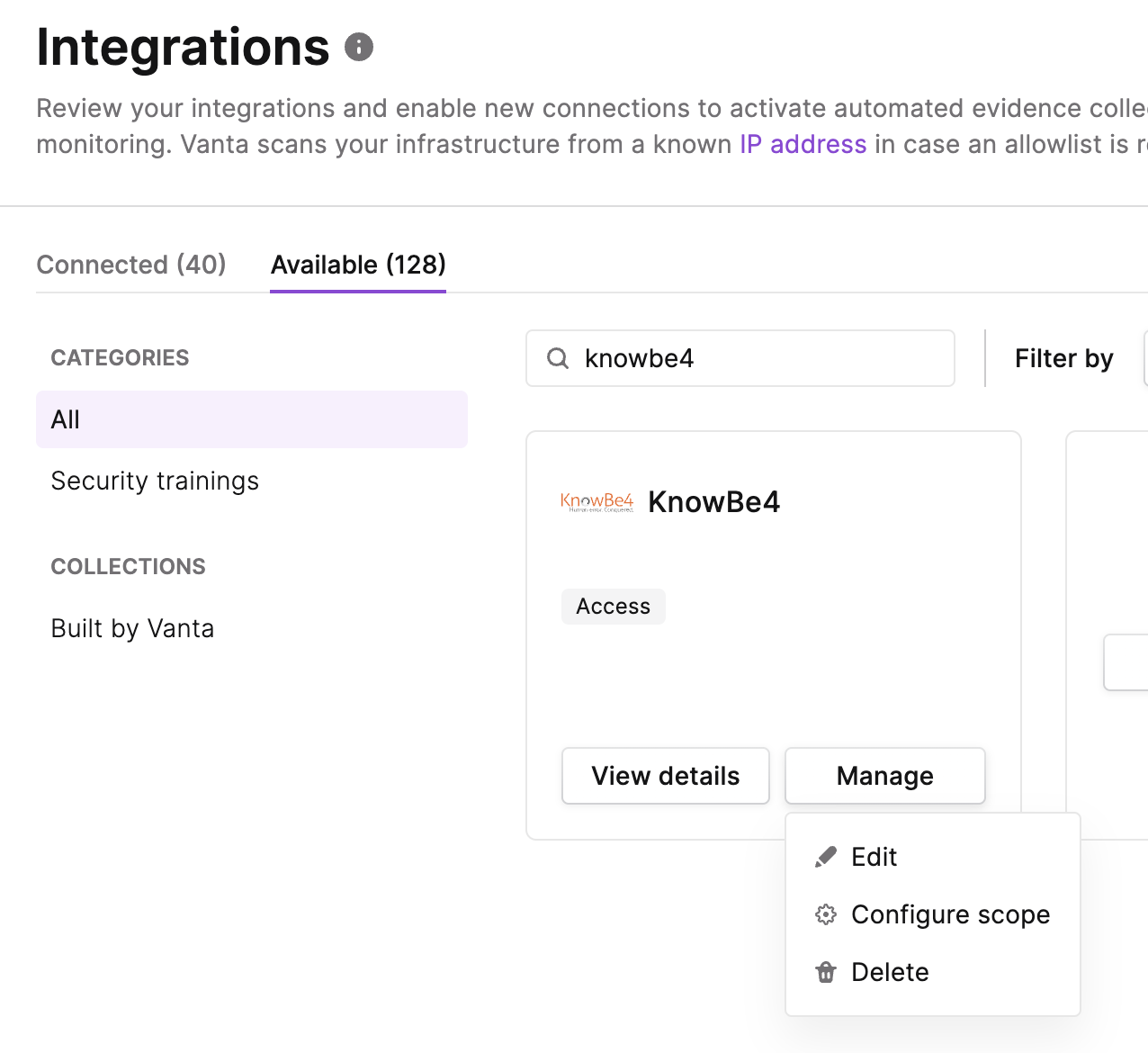 Admins can visit the

People

page to monitor each employee's progress by clicking on a specific users name

KnowBe4 users are associated with individual Vanta employees via email.