Automatically generate a system description with a step-by-step template using Vanta's Smart System Description functionality. A SOC 2 system description outlines the parameters of a SOC report. It contains essential information about your process, people, and tech stack supporting your product or service.
Why Smart System Description?
Save over ten hours manually creating and formatting a system description or thousands of dollars having an auditor prepare it for you.
Eliminate duplicative work. Smart System Description prefills much of the necessary information for a system description, like system components and SLAs, from elsewhere in Vanta.
Avoid audit delays
Enable Smart System Descriptions
Open the Frameworks page from the left-hand navigation panel
Choose a framework
Select Edit system description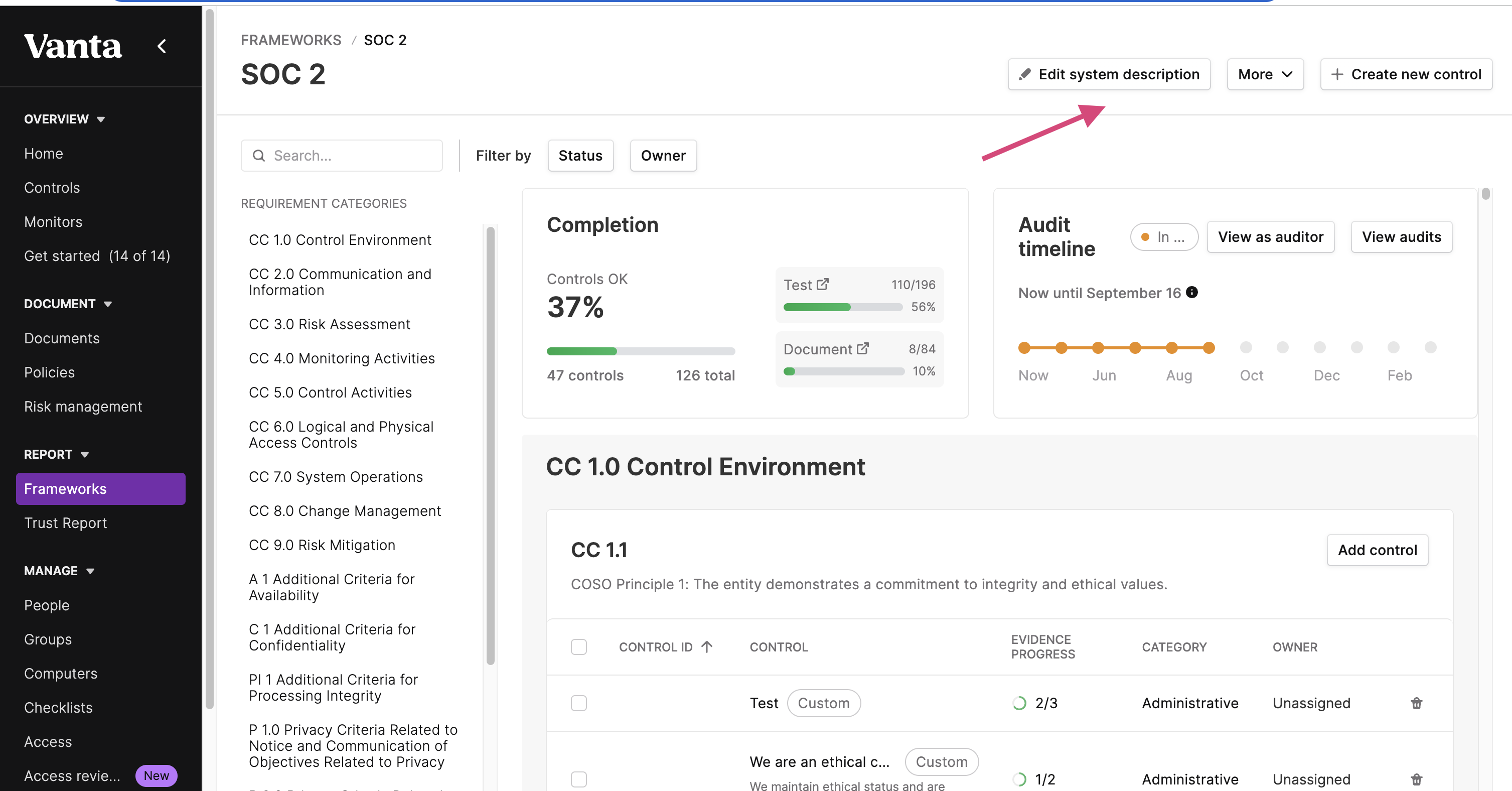 From here, you can:

Upload your own

Use pre-written system descriptions for your SOC2
Add a link to a pre-written system description for your SOC2
OR
Generate a System Description using the template

Using the Template
Vanta's System Description generator consists of several sections to complete - Inputs will be autosaved so you can close and re-open them anytime. Some information will be prefilled based on the integrations and policies you have enabled within Vanta; boilerplate language has been used to help with some responses. These can be changed as needed to match your system best.
Open each section and complete the required information
Make any necessary edits, or add needed options to fit your needs
Once the form's sections are finished, press Generate to create the System Description .docx to share with your auditor.

Generating may take up to 30 seconds.
You can download documents from the System Description (Section III) page by selecting Download on the appropriate version.
Edit Recurrence
Select More from the top right corner
Choose the time frame for recurrence and how many days in advance you would like to be notified.
Select Save
Updated